Get your storage with just 3 easy steps!
Not sure about getting a storage unit or how to rent? We're here to help.
Step 1:
Estimate the space you need & Get a quote
Make a mental list of the things you wish to store and estimate the space you might need.
If you're not sure of the amount of space you need, you can refer to our size estimator or contact our friendly team today at +65 6511 2929.
Get a quote for our storage units now!
At EBC, our focus is on offering superb storage of all sizes at the most affordable rates in Singapore.
Pay us a visit and let us show you the solutions and benefits you'll enjoy when storing with us.
If you need the referral of movers' contacts, please feel free to let us know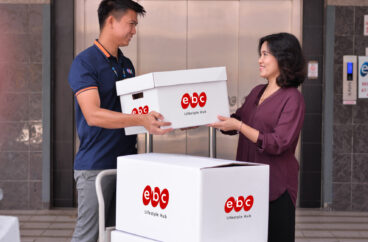 Confirm the unit with us and provide us with the necessary documents. Once payment has been made, now you are ready to move in!
Available payment mode: Cheque / Cash / Credit Card / Internet Banking / AXS
Tips to Making Every Belonging Count
Augment your storage space with shelves and organizers.

Buffer walking room in your unit so you can get to things stored deep inside.

Categorize items by usage and place the often used ones closer to the door.

Double-up larger appliances as "packing cases" for blankets, towels, tablecloths and clothes.

Ease back pains by placing the heavier items below.

Get all boxes labelled on all four sides for easy identification.

Have all metal surfaces wiped with the proper agent to prevent rust.

Individually wrap glassware and place them near the top of cartons. Do not place heavy items on boxes containing glassware.

Keep clothes and curtains on hangers.

Layer fragile items in tablecloths or blankets to prevent breakage.

Make sure all cookery is clean.

Never place the "head" of the mattress on the ground.

Outer area of soft furnishings must always be covered by a protective cover.

Pack books in sealed plastic and lay them flat to protect their spines.

Refrigerator, freezer or washing machine should be thoroughly dried and stored with its door slightly opened.

Sanitize all outside tools and equipment before packing.

Use boxes of the same size for easier stacking.